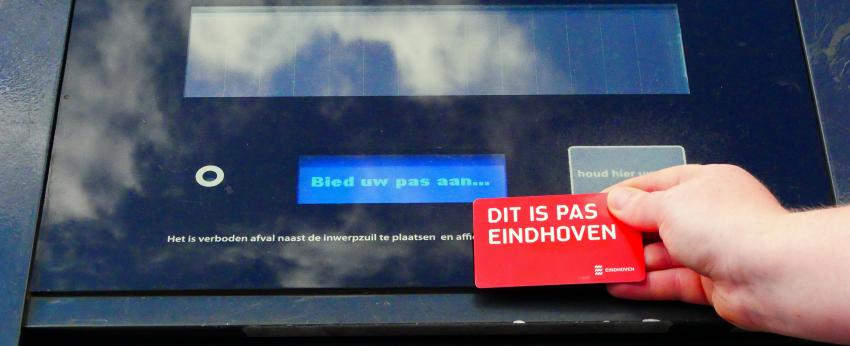 How much does a City Pass cost?

A new pass costs:

5 Euros if you apply using your DigiD code.
8 Euros if you apply at the counter.

The City Pass is free to newborn babies and new residents of Eindhoven.  And if you previously lived in Eindhoven, you can still use your old City Pass. You no longer have the old pass? Apply for a new one.
What can I use the City Pass for?

There are various uses for the City Pass:

Refuse

to gain access to the waste recycling point (residents of 18 years or older)
to gain access to the underground refuse containers (residents of 16 years or older)

For more information about refuse, go to cure-afvalbeheer.nl.

Sports activities
The City Pass gets you into (subscription or bulk pass) De Tongelreep and Ir. Ottenbad swimming pools.

Parking
You can use the City Pass as a parking pass for your car (for more information, go to stadsparkeren.nl)
How do I apply for a new City Pass?

If it has been lost or stolen, you can apply for a new City Pass. You may also apply for the City Pass on behalf of your children, if they still live at your address, and for your partner if you are married or registered partners.

If you had products on your old pass (such as a bulk pass for swimming pools or city parking) these will also be available on the new pass.

Apply online using DigiD

Apply at the counter

Bring with you an identity document, or a photocopy of it, for the persons you are requesting a City Pass for.
Pay for the pass or passes by direct debit card (preferable) or in cash.

The pass will be sent to your home address in 3 to 5 working days
Will my City Pass be replaced?

We are going to replace all City Passes issued before June 2019. It's a step we need to take to protect your privacy. At present, the passes contain information which is not necessary for the use of your City Pass. Those issued after June 2019 show only your surname and initials. The passes issued earlier showed your date of birth and those issued before November 2018 also showed your Citizen Service Number (BSN). That information was printed on the pass or on the chip in the pass. That is no longer permitted.

We aim to replace all City Passes in 2020. It's a large-scale and time-consuming operation, partly because we must first go through a tendering procedure to select a supplier to provide the new passes. The City Passes on which the unnecessary information is visible in print will be replaced first, followed by those with the information on the chip.
Can I get a temporary pass for the underground containers?

Yes, certainly, if you have a house in Eindhoven for less than 4 months and you are not registered here. Such a pass is not issued automatically, you must apply to Cure for it.

To do so, you will need:

A letter or e-mail from the owner of the house, stating that he pays, or is willing to pay, waste collection charges.
The number of people living in the house.
The date they moved into the house.

Once you have gathered all the requirements together, you can phone Cure: 040 - 250 0130.

The temporary pass is not valid for use at the waste recycling point.
My City Pass hasn't arrived. What should I do?

What you should do, in the event you haven't received a City Pass, depends on the circumstances:


I'm new to Eindhoven (birth or new resident)

Has it been more than 10 days since you notified the Municipality of Eindhoven of the birth or relocation to the city, and you still haven't received your pass? Please phone us at 14 040 or get in touch through the contact form. We will check the information and make sure that a City Pass is sent to your home address.

I lived in Eindhoven previously

Then you won't be issued a new City Pass. You can still use the old one. You no longer have the old pass? Apply for a new one. Have you lived in Eindhoven for longer than one month and a City Pass has been processed in our systems? In this situation too, apply for a new one.

I've ordered a replacement City Pass

Have you applied, and paid, for a new City Pass but not received it? Please notify us by e-mail within 1 month and we will send you a new pass free of charge. Send the e-mail to gemeente@eindhoven.nl. Give your name, your address and attach proof of payment of the City Pass.
My City Pass isn't working. What should I do?

If your City Pass isn't working for one of the products you have loaded, get in touch with the supplier (Ir. Ottenbad, Tongelreep, Stadsparkeren or Cure). They will be able to solve the problem, generally by reactivating your pass for that particular product. If, after that, your pass still doesn't work, it's probably defect. In that case, apply for a new one.